Kickstart Your Child's Journey With Kids Karate Classes!
Some parents think that Karate is all about punching and kicking, but that couldn't be further from the truth!
At Senjokai Karate Academy, we offer traditional Shotokan Karate classes that will help your child develop strong core values and lasting life skills. Our core values are Honour, Integrity, and Character -- these values pervade everything that we do! We want to help children in East Ayrshire and from across Scotland develop confidence, discipline, respect, and to become happy and healthy members of our community.
To learn more about our Kids Karate Classes, just fill out the short form below!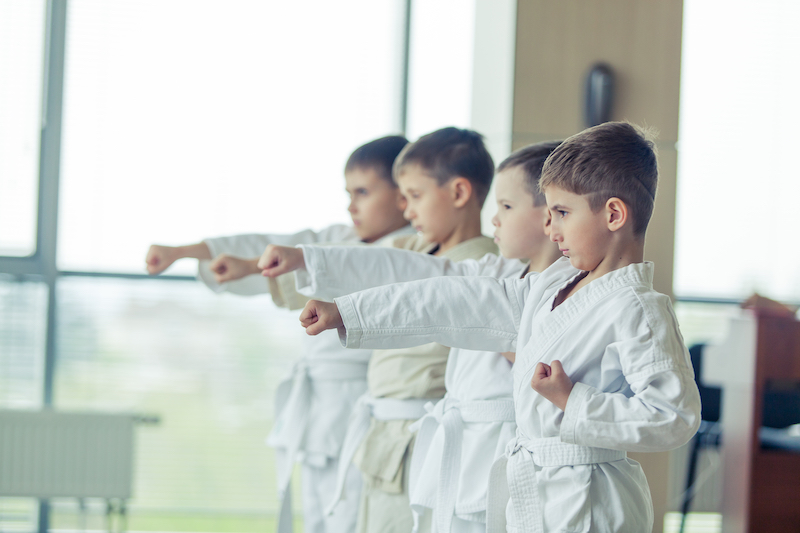 Why Choose Kids Karate Classes For Your Child?
Traditional Shotokan Karate training is proven to help children develop confidence, discipline, and perseverance. It's also a great way to introduce your child to lifelong habits of physical fitness and to help connect them with new friends and mentors!
Kids Karate Classes teach important life skills through the martial arts. When your child works to earn each new belt, they learn about discipline and goal-setting. When they practice new techniques, they gain focus. Our instructors at Senjokai Karate Academy will help them learn about teamwork and leadership. Join us for your first class and see for yourself why we're East Ayrshire's premier kids martial arts program!

Our Kids Karate Classes promote:
Improved confidence & self-esteem
Discipline, focus, & perseverance
Goal-setting, teamwork, & leadership skills
Awareness of anti-bullying & self-defense strategies
An introduction to lifelong habits of health & wellness
As Early As 4 Years Old, Kids Karate Classes Can Help Your Child Thrive!
We break our Kids Karate Classes down into multiple age groups so that your child gets the opportunity to train alongside other students of their own age. They'll learn teamwork, respect, and compassion alongside Senjokai Karate Academy's core values of Honour, Integrity, and Character! We are proud to be East Ayrshire's choice for traditional martial arts training, and we know our Kids Karate Classes can help your child thrive.
Click below to learn more about how our Wee Ninjas Club and Karate Kids programs can help your child become the best they can be!
Wee Ninjas Club (Ages 4-6)
Our Wee Ninjas Club is one of the most successful martial arts clubs in Scotland! Help your child learn teamwork, discipline, and courtesy through Shotokan Karate. Our Wee Ninjas Club also promotes cognitive development, emotional and social growth, speech and language learning, and gross motor development! Our students perform better in school and behave better at home. Senjokai Karate Academy is proud to lay the foundations for a happy and successful life for your child!
Karate Kids (Ages 7-11)
Our Karate Kids program provides a fun and dynamic atmosphere where children of all ages can gain social skills, athleticism, and gain in compassion and courtesy. Get your child started on learning anti-bullying strategies, fundamental self-defence, and on more advanced Shotokan Karate techniques by enrolling them in Karate Kids!
Join us in East Ayrshire and help your child unleash their inner ninja! Our team at Senjokai Karate Academy is proud to offer the best Kids Karate classes in Scotland, giving children from our community every opportunity to succeed by empowering them with traditional martial arts training!
Enroll in Scotland's Premier Kids Karate Program Today!
Help your child develop Honour, Integrity, and Character through traditional Shotokan Karate! Our team of award-winning instructors here at Senjokai Karate Academy will serve as mentors to help your child learn, grow, and thrive. Join us in East Ayrshire for Scotland's favorite Kids Karate Classes!
If you have questions, just fill out the form below to learn more!